Regina Computer Repair
Looking to get your laptop fixed and you don't know where to go. You searched Google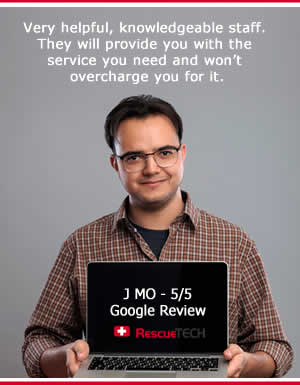 for "Macbook repair near me" or maybe "Computer repair near me" and you found us. Well hello and welcome!
Why RescueTECH?
We have been in operation since 2009.

Non commission no pressure staff.

We are locally owned and operated.

Apple Certified technicians.

We back our work with a 180 day warranty on hardware.

Our technicians have a minimum five years experience in repair and service of Apple and PC computers.

We are Regina's best place for iMac, Macbook, Macbook Air, HP, Lenovo, Acer, Dell, Samsung, Sony, Asus and MSI computer and laptop repair.
We frequently see customers who, after going to another place, come to us to fix what the other guys could not. RescueTECH Regina is where our competitors send their customers, when they can't tackle a problem.
Did you recently open up your laptop to see its screen cracked? Maybe you tried to start it up and it is in a "boot" loop, when the Apple, or Windows icon loads repeatedly. Let the experienced techs at RescueTECH Regina fix that for you. They can replace your LCD, repair your screen lid hinge, swap out a hard drive, solder in a new power jack port, or replace your laptop's internal battery. They have both the tools, and experience to handle the job.
If it is determined that it is not economical to fix your desktop or laptop computer, we are proficient at retrieving data from computers that stop working due to motherboard failure, liquid or water spills and other causes.
Problems with your Wifi? These too are handled by our technicians. Need a drive replaced? We are here to help.

In short, if it is computer related, we can fix it. RescueTECH also backs the work we do with a 180 day warranty on hardware.
Are we the cheapest? Probably not, but when it comes to quality will not compromise on the parts we use in our repairs, or the quality of our staff skills. Are we the fastest? Not sure. Unlike some, we don't claim to be the quickest, but we do strive for a three day turnaround time on most services.

Located at 2225 14th Avenue in downtown Regina, across from Tangerine the Food Bar. Open 10am - 5:30pm weekdays and 10am - 3:30pm Saturdays.

If you have a computer problem come on in. We are here to help!